PutongWords Etc. is the next incarnation of #PutongWords, a daily Twitter column I wrote from late 2018 through 2019. Each day I chose a different common Mandarin Chinese word to pick apart and muse about within the constraints of 280 characters, uncovering the likes of wit, violence, tenderness, and wonder embedded within.
This newsletter expands beyond the short format so I can write about Chinese words and culture without worrying about fitting a single thought into less than one Tweet. There will be 3-5 PutongWord of the Day posts per week under a specific theme, and 1 entry per week discussing said theme. In between, I will dispatch pun-filled doodles and the occasional miscellaneous post on things such as Chinese internet slang, newly invented characters, naming conventions etc.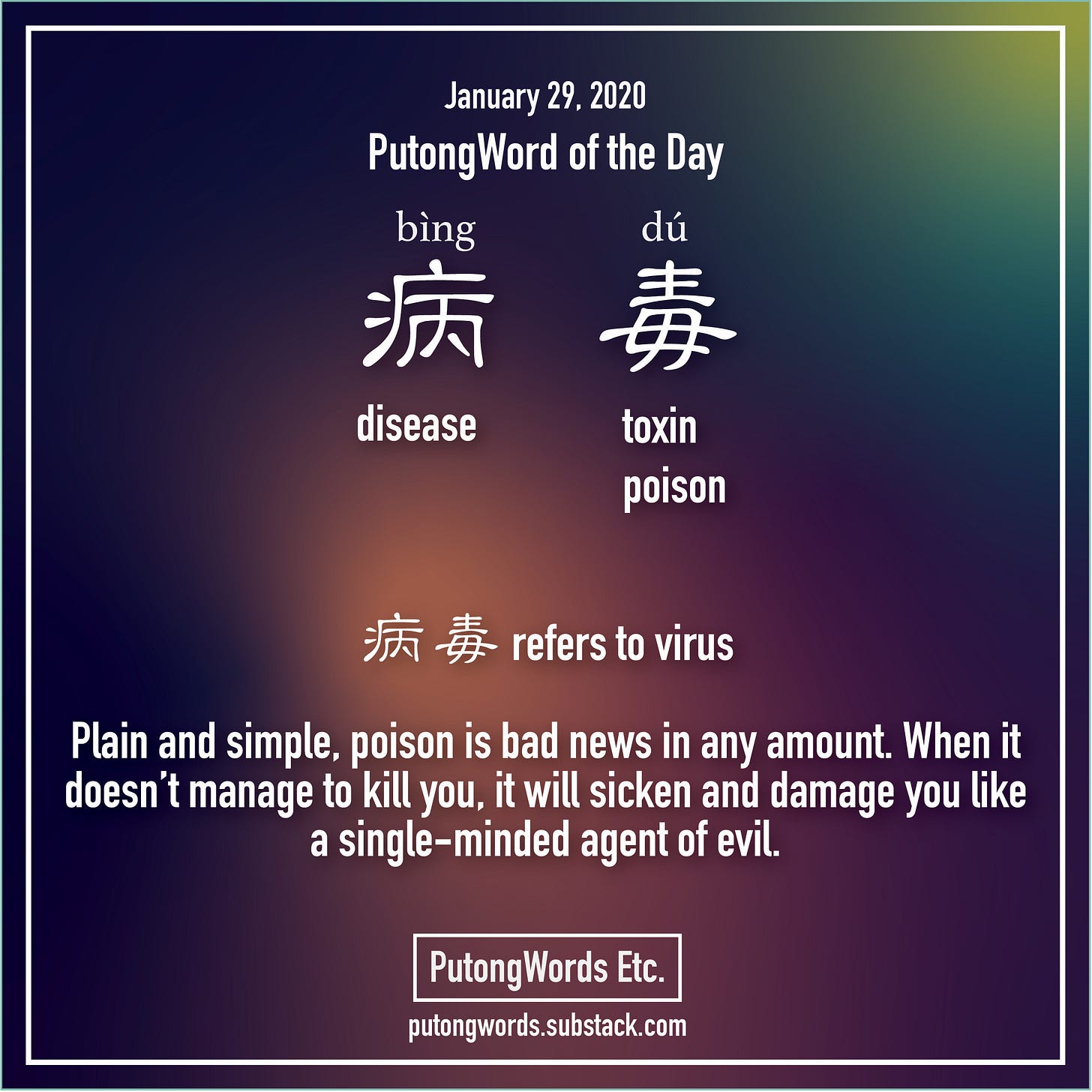 病毒 (bìngdú) refers to virus. In Latin, virus means 'slimy liquid, poison, potent juice', and 毒 (poison) embodies that meaning to the fullest. The character 毒 is prevalent in words about evil, ruthlessness, and harm, and brings with it a potent sense of menace, a toxic quality that threatens your wellbeing.
Poison is a plot device that rears its head with some frequency in popular Chinese literature old and new, though largely in stories set in ancient China. They are usually powerful concoctions that can wreak all kinds of havoc on people, disorient them, make them weak, cause them to bleed from every orifice and die writhing and frothing at the mouth. But for every powerful poison, there always exists an equally potent antidote, something another powerful poison in its own right.
This is why, when I think of how the word for virus can be literally translated to "disease poison", I cannot help but read a hidden hopefulness, because of the popular notion that every poison has just the cure to reverse it, stopping death in its tracks.
— f
As the situation in Wuhan unfolds, please keep the people of China in your hearts. There are brave medical professionals putting their lives on the line to keep this disease at bay and they're all heroes.